In this guide, I will explain how to remove the standard stereo from a Ford Fiesta MK7 (2008-). The pictures featured in this guide are used as a base guide, where your trim may differ slightly, but the removal of panels and trims will be same throughout the model range.
Before We Begin
Before you start work on your car, make sure you have the same stereo as shown below, and also the tools listed on hand, this will save a lot of time, and will confirm a completed outcome when attempting this guide. I cannot be found responsible for any damage done, or any other issues which arise from following this guide. This is attempted at your own risk.
This guide will allow you to remove the stereo from your Fiesta in order to fit a replacement stereo, or install a hands free kit. Save some money on installation costs by fitting yourself.
Ford Fiesta MK7 Stereo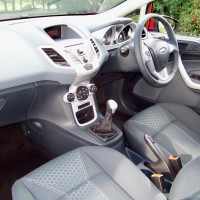 ---
Fitting Information
You will NOT need a code for your Ford Fiesta stereo upon removing and re-installing the stereo
Stereo Fitting
Fascia (Single Din): Autoleads (FP-#-##-#)
Wiring Harness: Autoleads (PC-#-##-#)
Hands Free Fitting
Sound On Top: Autoleads (SOT-984)
---
The Steps
---
[ml-adverts location=beerfund]