Did some more work on the car yesterday (Saturday). Managed to pipe in the 3port after visiting Harvey Smith for some vacuum hose (cheers Harvey)Ferodo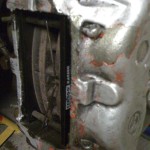 Also had a closer look at the breaks, and seem fine now that I un-did the bleed nipple to push the pistons back (think they were leaking a little bit before as I wasn't pushing them back straight), but put the new pads in, and bleed the brakes and pushed the brake pedal as hard as I could and there was no leaks (Phew).
Just need to give the caliper's a bit of a clean now (trying to remove all the gash paint that's been put on them – seems to be scraping off with a chisel, might just put some brake fluid on a cloth and leave the cloth over the caliper to soften the paint)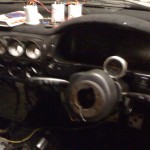 Also got some of the electrics sorted (still puzzled about the windows though) dash is pretty much back together now, clocks in and wired up, and just put the new swoosh gauges in, but not wired in yet…. I'm thinking about making a custom distribution box somehow to power the gauges and the in car camera's that ill be in there.