Right I'm sick of revising for this exam on Tuesday, so I'll post the report from the weekend when I visited Castle Combe for Japfest 2010.
So, Friday, early morning wake up call, collected van, came back home, collected trailer, back again and loaded the Impreza on the trailer, and took it down to John Pye Motors in Bishop Auckland (they build rally cars, and had loads of impreza's in) – got them to 4 wheel laser align and corner weight the car.
So was around 1:00 before the car was finished, loaded on the trailer and started the 250+ miles on the way down to Castle Combe for Japfest.
On the way down, the trailer suffered a blow out (while overtaking a lorry), we were just on the A1 at Pontefract, and it was 4:00, so got on the iPhone and looked for a local tyre place to replace the blown tyre (didn't fancy travelling any further with no more spare). Found a Kwick Fit, pulled in and got them to check if they had a tyre in stock, none, but also got him to have a look at the other tyres, and they were all normal car tyres (they are supposed to be reinforced tyres – Didn't think about checking this myself as i purchased the trailer of a guy who transported cars from place to place as a living)
Anyway, Kwick Fit didn't have any tyres in stock for the trailer and couldn't get them till Monday, time was getting close as by this time it was 4:30, but the guy said i should try a place around the corner called Dougs Tyres in Castleford, and they were absolute life savers! They didn't have the tyres there, but had them in another garage down the road, so they went off and collected 4 new tyres for me, fitted them, and we went back on our way to Castle Combe – didn't arrive till gone 11:00, only to find out that I had forgotten the key that unlocks the Impreza door (I had locked the door with the alarm remote, and then disconnected the battery while it was on the trailer – DOH!)
So had to break into my own car with nothing more then a twig (dunno if I should post that on here like)
So after 5 min got in the car, and just left it unlocked on the trailer over night…
Another early morning wake up call on the Saturday, got everything sorted and headed from the Travel Lodge to Castle Combe, where we got messed about a bit with which gate i needed to go in to park (ended up getting put in the gate furthest away form where I needed to be)
Anyway, got all that sorted, and got the car on track, only to find that in 4th and 5th it over boosted like crazy, would only go to 5k revs and it was like hitting the rev limiter all the time… so off the track, and trying to figure out what exactly was going wrong, though it might have been the boost solenoid, and after a call to Harvey, he confirmed my suspicions (had a check of the standard boost control solenoid and it was missing the "pill").

So off I popped around the trade stalls for someone selling a manual boost controller, luckily I managed to find one and fitted it, and guesstimate what to set it to and went back on track for my next session… and it didn't over boost this time, although I was a bit off with my guess for setting the controller as I only got 0.5bar boost (instead of 1.25 i should have set), but managed to keep up with everyone this time.
Then back on the road home with a new little list of things to do, but I have to say, the car handled mint! A little bit of over steer on the rear then grips and turns mint around corners (had a little bit of under steer, but I'm pointing at the crap tyres I was running on the front).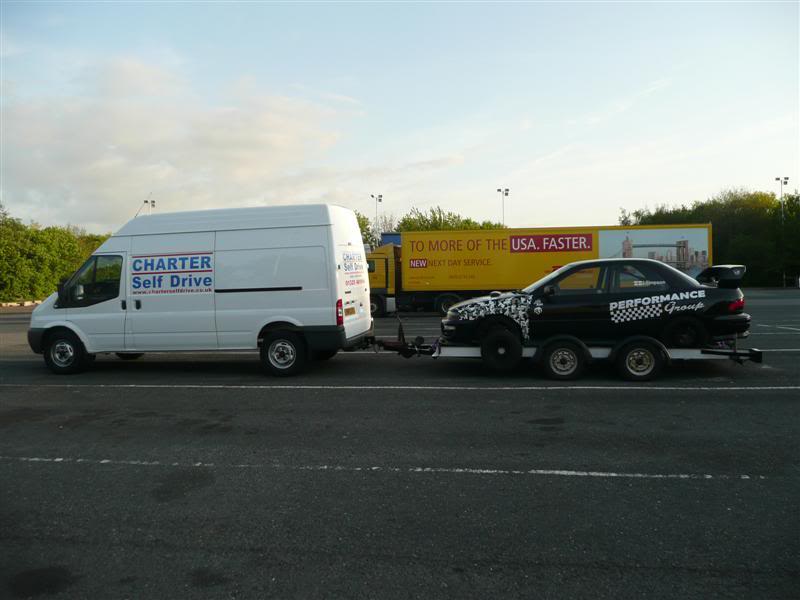 Croft in 2 weeks time, so need to get myself a electronic boost controller from Harvey and plumb that in ready for the weekender :D