So the saying goes, "Good things come in small packages", and xTool has that down to a T with their iOBD2 – OBD-II reader for Apple and Android devices. This is a great bit of kit for any car enthusiast, can save you quite a few pounds in self-diagnosing faults.
The iOBD2 isn't only a diagnostic reader, this powerful little unit also provides data logging, and a great dashboard which includes your vehicles current MPG, RPM, and so much more.
Everything is controlled and displayed directly onto your iPhone/iPad/iPod or Android devices, which means you do not have to carry a laptop, making the iOBD2 a excellent plug and play device.
Car Diagnostics – OBD (On-board Diagnostics)
Cars have been running on-board diagnostics for many years now, in fact, nearly ever since computers were running engine management systems. It wasn't until 1996 when the OBD-II specification was deemed a mandatory installation on all vehicles sold within the United States, and soon followed a few years later (2001) that all cars in the EU were also required to have the OBD-II standard communication fitted to vehicles.
Usually the OBD port would have been used by car garages to diagnose faults in any part of the vehicle, from any of the hundreds of connected sensors within the car, down to a simple switch which interacts with the cars on board ECU.
Every car will now be fitted with this standardised plug somewhere around the steering wheel. On our test car (Ford Focus ST), it is under the little cubbyhole on the lower part of the dashboard (below the steering wheel), but sometimes these test ports can be obscured above the pedals or behind a little panel.
The OBD-II port can also be used to provide much needed information on the current running of your vehicle. Most cars now have on board trip computers, which tell you your current MPG, current fuel usage, and the usual gauge telling you how much fuel you have left in your tank and also the current coolant temperature. These gauges are all pulling this information from the cars ECU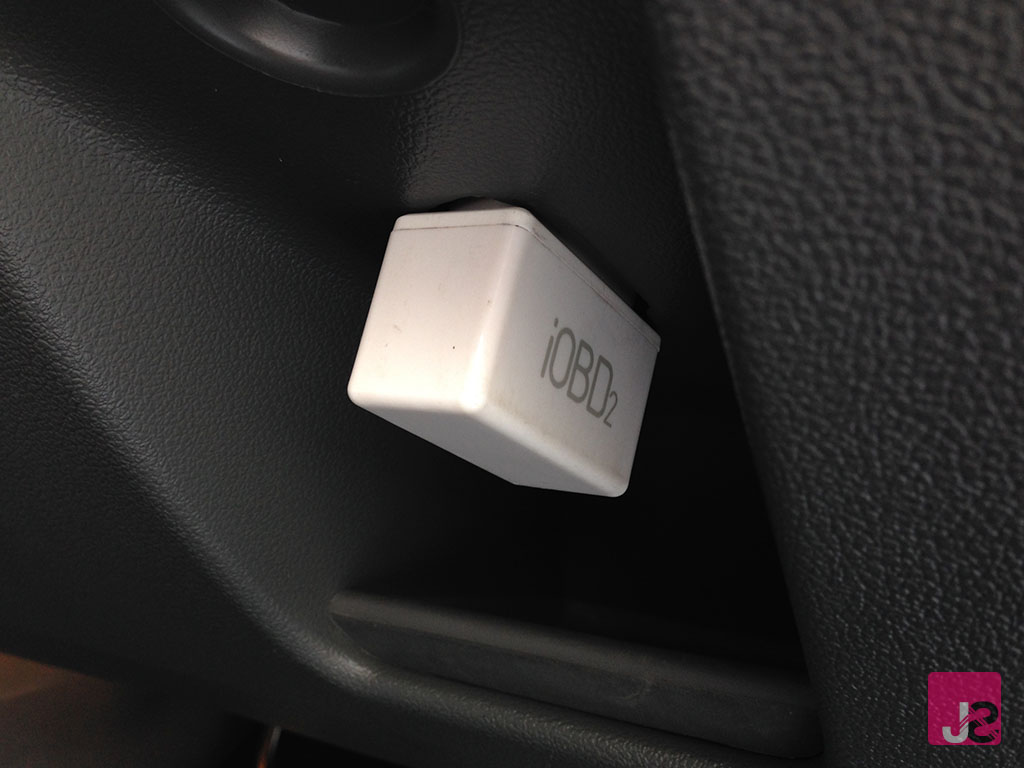 xTool iOBD2 – Overview
All is well and good knowing your car has lots of data running throughout the network of wires, and also your ECU can store fault codes, letting garages know exactly what is wrong with the car, but we need a means of reading this data, and even reading the stored fault codes for the car to tell us what is wrong with it. This is where iOBD2 comes into use.
Previously, your car would have to be plugged into a computer with a reader much like this, but costs hundreds of pounds more, with wires everywhere for any user to be able to read the cars internal network.
xTool iOBD2 – Features
Upon first launching the app (we are testing this on an iPhone 5), the program will download your current language files. Once into the program, you will need to select your connection (Bluetooth or Wifi), then will then select your vehicle from the menu (there are lots to choose from).
Once into the main menu, you are able to choose from the three main features of the app:
Diagnostics
Dashboard
Performance
xTool iOBD2 Performance
The Performance screen allows you to test to see your cars acceleration, distance travelled, and a time – this would only be suitable for track (I wouldn't recommend testing this out on the open road).
xTool iOBD2 Dashboard
The Dashboard provides what a usual car dashboard would show, giving the driver the vehicles current speed, RPM, MPG. This section of the app would be great for those vehicles who do not have a trip computer fitted as standard. I know some of the older Ford drivers will love to have something like this in their Focus RS MK1, to keep an eye on the correct car temperatures and intake temperatures.
xTool iOBD2 Diagnostics
Finally the greatest part of the tool, the diagnostics page, which allows you to read all the current sensor data, and also view any stored fault codes. This is the part of the iOBD2 app which has already saved me money in showing me I have a faulty O2 sensor, which if I had taken it to the garage, would have cost me twice as much as the unit to get repaired.
All fault codes are just this – a code – but this app nicely explains exactly what each code is, and what may be wrong.
Another positive for this app, you can stream the cars live data directly to your device, and be able to keep track on a whole range of information your vehicle stores (although not all cars have all options).
xTool iOBD2 – Good Points
Self-diagnose issues on your vehicle (saving you money)
Easy to use
Minimal design
No wires
xTool iOBD2 – Bad Points
We could only get this working on Wifi
WiFi connection is a little tricky to get working
Food For Thought
After playing around with the iOBD2 and also the ELMConfig program using a modified ELM reader, incorporating both functionalities into the iOBD2 would be one of the greatest products on sale for any Ford user.
The Verdict
xTool's iOBD2 costs from £85* and is available from xTool's iOBD2 website, there are some dedicated iOBD2 readers for like likes of Volkswagen (VAG) and BWM vehicles. I would recommend any car enthusiast to get one of these, as they are a great help if something goes wrong with your vehicle, and if you like to keep track of your cars current performance/statistics, this is the perfect lightweight tool for you.
*Price correct at time of publish