This guide explains exactly what parts you require to fit roof bars/roof rack onto a Ford Fiesta MK7 and also the Ford Fiesta MK7.5 (Facelift). The parts you will require are the same for the 3 doors and 5 doors, and also all engine/models of the Ford Fiesta MK7. I will guide you through all the parts you require, and how to install these parts on your vehicle.
Please note – this is only applicable to early model facelift fiesta's – it seems that Ford changed this at some point and removed the screws all together on some models. We are unsure when this change took place, but have been informed this is the case. Carrying out this work is done under your own risk.
You will be looking at prices around £110 for the genuine Ford parts (which are much better than the aftermarket kits available). The Ford kits come with aero bars and are sub-manufactured by Thule for Ford. The best things about the Ford specific bars is there is no need to fine tweak the measurements, as everything is already pre-set and Fiesta specific.
Fiesta Roof Bars Parts Required
Ford Roof Bars (Ford Fin: 1718804)
Bojo Tool / Flat Head Screwdriver
Stanley knife
Philips Head Screw Driver
You will notice when you look at the roof of your Fiesta, there is no where for these to fit in. That is because Ford have kindly placed the rubber strip over the mounting points for the Fiesta roof bars. Luckily, Ford provide new rubber seals in their kit, which will allow you to replace the fill length seals with part seals, and caps to place over the holes when you remove the roof bars.
First you will need to remove the old rubber seals on the roof, these are just held in place with double sided sticky tape. Using a Bojo tool, or a flat head screw driver (be careful with this) and pry the plastic strip away from the vehicle.
Once you have done this on both sides, you will see that Ford have nicely painted over the mounting points, and also used a sealant to cover the holes. You will need to use a Stanley knife to cut away the sealant around the screw hole, and the use your Philips head screwdriver to remove the plastic blanking screw.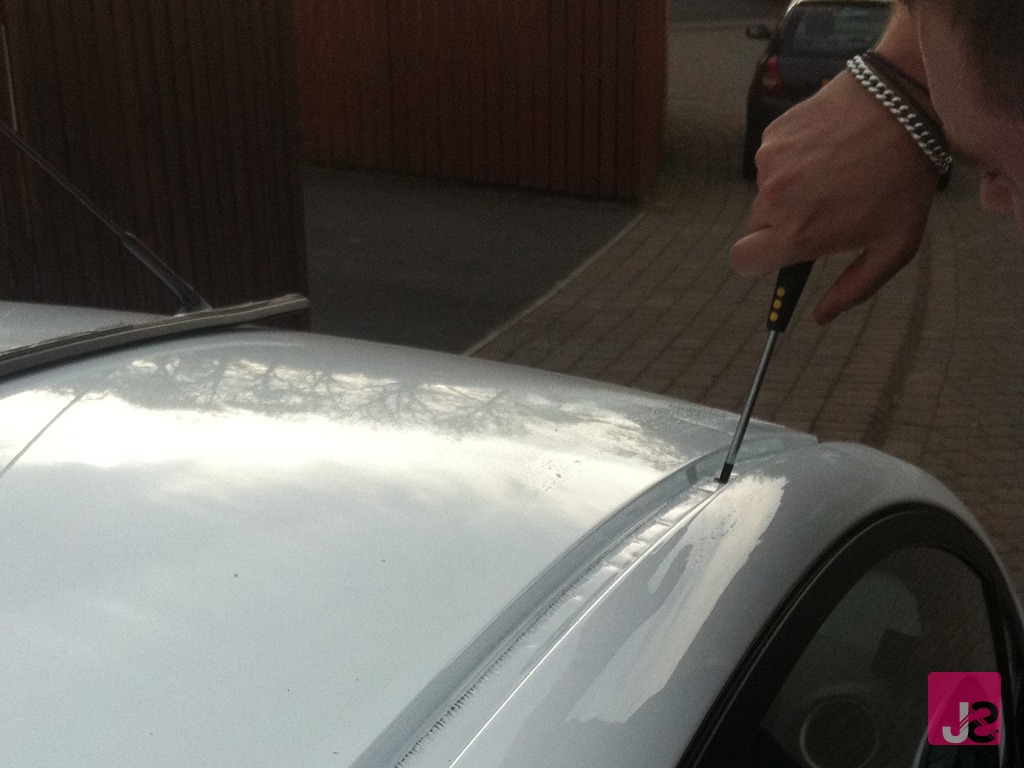 Now you have revealed all four mounting screws, you are ready to fit the new roof rails. We will fit these first so we can then position the new gutter strips accurately onto the vehicle. Fitting is simple, follow the instructions provided and screw the bars onto the roof of the Fiesta using the provided mounting screw holes.
Once the Fiesta roof bars are fitted, you can fit the new rubber gutter strips, starting at the rear and front of the vehicle, and then attaching the centre parts.
Finally, you will have room to fit either a roof box, or a bike carrier.