Most modern cars do not come with a spare tyre, or even a space saving tyre in the boot, they seem to be getting replaced with puncture repair kits. Everyone will get a puncture in their car at some point in time (if you have NEVER had a flat tyre, then please get in touch and provide me with some lotto numbers). I myself have had my fair share, and just recently had a bad puncture after hitting one of many pot holes (I sometimes wonder what I pay road tax for).
There are a couple of reasons why car manufacturers no longer provide a spare wheel:
Allow customers to have a bigger boot
Save weight (better fuel economy)
Save car manufacturers a little bit of money
Instead of a spare wheel, a puncture repair kit is provided, or what is known as tyre foam, and a pump. Now you may think this is great, but as I have explained previously, do NOT use these kits (only for a real emergency, where your stranded in the middle of no where, its dark and your a single female).
[ml-adverts location=in-post]
Puncture Repair Kits
These come in many shapes and sizes, but the principals are the same. These feature some foam/gel sealant, and a pump, which inflates the tyre while pumping air and the sealant into the tyre, and forces it out the hole. This then has a reaction, and seals the hole to make it air tight to get you to the garage.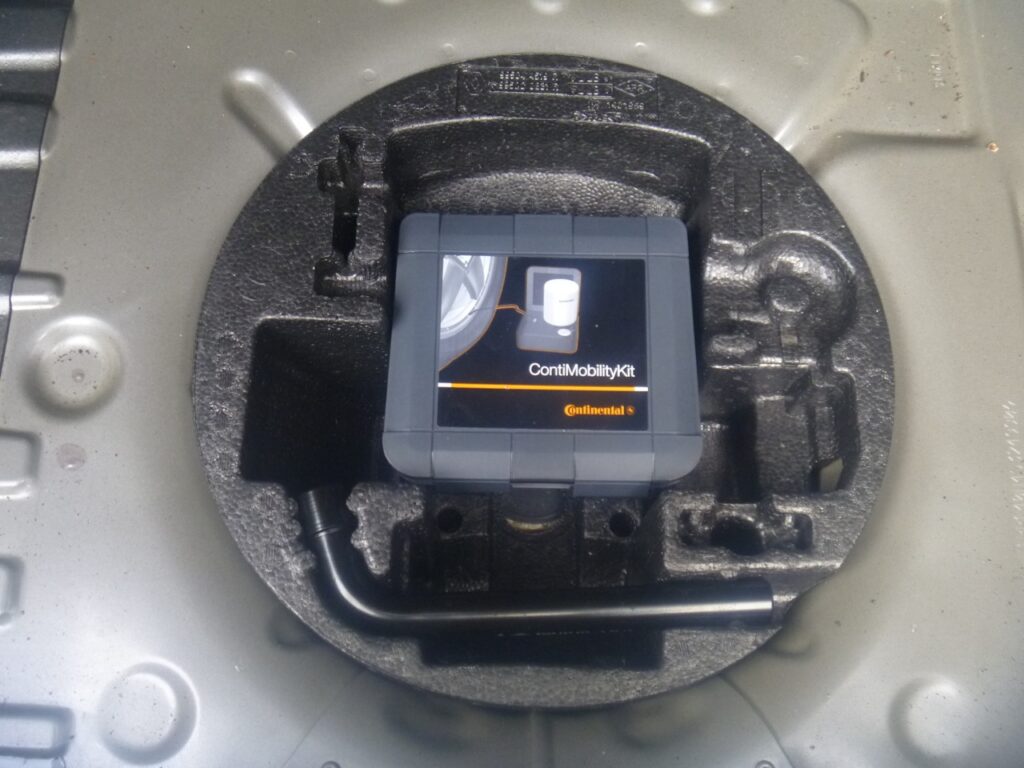 Advantages
Puncture repair kits allow you to quickly and easily repaired yourself at the side of the road only if you have a nail in the tread of the wheel. No mess or strength involved in jacking the car up, and removing the wheel, to replace with another wheel/space saver.
Disadvantages
Unlike replacing the wheel for a spare, using puncture repair kits are NOT a permanent fix, and your tyre will need replacing ASAP
If you have a large hole in your tyre, a cut in the side wall of the tyre, or a complete blow out, this kit is completely useless – Which will mean you will have to call your recovery company and have the vehicle towed to your nearest garage
You will have to limit your speed, get yourself to a garage, where they will tell you that you can no longer use a "bung" to seal the hole where that nail was, and get a brand new tyre (not cheap now days)
You will also have to order a new bottle of tyre foam/gel/repair kit from your dealer (as this is a MOT requirement to have this in your vehicle)
Will cost you more overall if you have a puncture, especially just a simple nail in your tyre.
As you can see the disadvantages of using puncture repair kits outweigh the advantages.